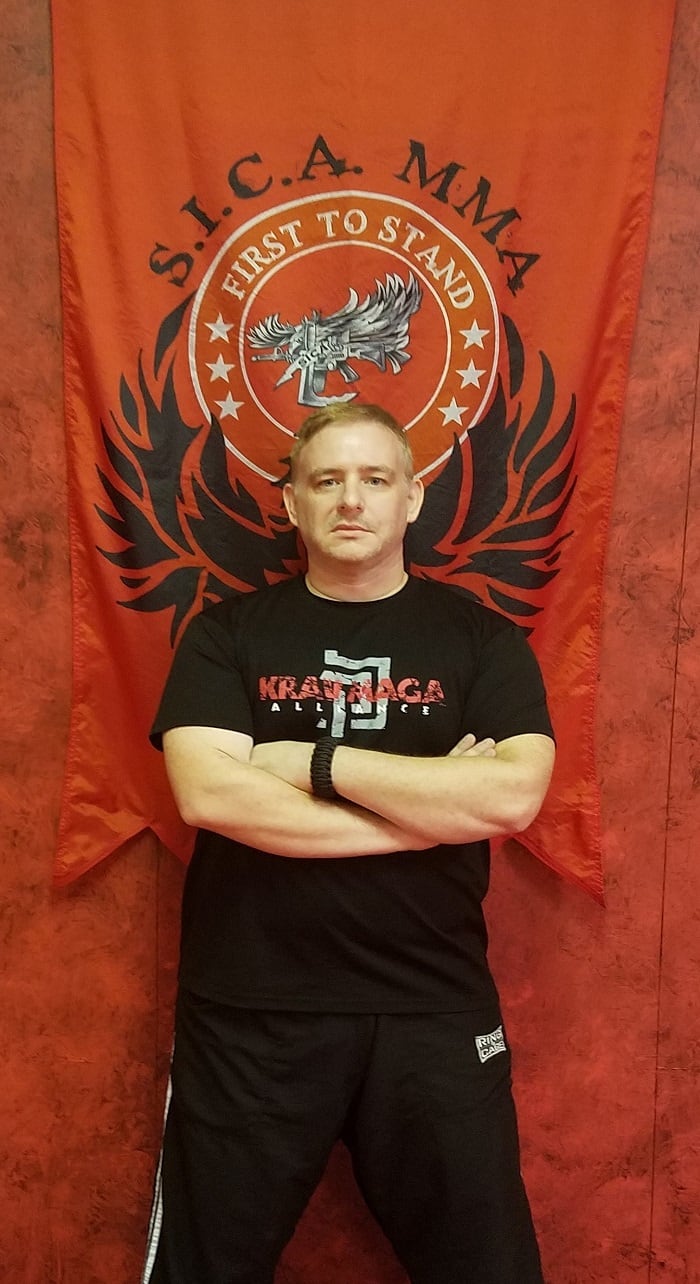 Keith Burregi
Keith Burregi has trained Tae Kwon Do under Grand Master Art Monroe, Tang Soo Do under Master Chris Benoit, Aikijujitsu, Aikido, Lung Shou Pai Kung Fu under Sifus Bobby Luttrull and Ron Scott by way of Grandmaster Norman Pedelahor and Krav Maga through Krav Maga Alliance under the direction of Soke Tony Morrison. He has also been working in the private security industry since 2015. Keith was drawn to Krav Maga for its real-world applications and as a combative system as opposed to a sport fighting institute.
He has been studying Krav Maga through Krav Maga Alliance since 2013. In 2016, Keith became an instructor with Krav Maga Alliance and joined the instructor team at SICA MMA. In August of 2017, Keith became a StrikeFit Certified Instructor through Rachel Greenbaum of KMA. In January of 2018, Keith became the Chief Instructor of SICA MMA. In September of 2019, Keith, as well as 3 of his instructors were certified as Young Warrior Instructors through KMA under Soke Tony Morrison. Since becoming Chief Instructor, Keith has developed 6 Krav Maga Instructors, which have been certified through KMA, 2 Kickboxing Instructors, and a Boxing Instructor. Together with his training team, the school has grown from less than 70 students to presently over 200 students; This includes more than 60 children in their Young Warriors program for ages 5-15.
In 2017, Keith was invited to teach a Women's Self-Defense Class for nearly 400 high school students at St. Joseph's Academy in Baton Rouge. He has since lead similar courses at Southeastern Louisiana University and Louisiana State University for local sororities. Since then he has been leading a Women's Self-Defense Class every month at his school and using the class fee to assist in paying for memberships of Victims of Abuse. Keith has started a scholarship program for Victims of Abuse and Sexual Assault at their school. Its purpose is to provide a safe training environment for these ladies and children to aid them in preventing becoming victims again. This program provides these members with up to 1 year of training at no charge. Keith has also implemented a free monthly Abduction & Bullying Defense Seminar for ages 6-14 at their school.
As an instructor, Keith specializes in People Management and Conduct Behavior Modification.