Scholarships for Membership
SICA MMA offers membership waivers or scholarships for certain situations to Victims of Abuse. This would include both women and children. Other exceptions can be made as well.
The qualifications for this type of program would be a brief letter of recommendation from your local church, women's center, or from local law enforcement and a short interview with one of our instructors. Because your safety is paramount to us, no details of your membership will be publicized.
Let us help you take a stand against Domestic Violence and Sexual Assault. If you or someone you know is a victim of abuse, please reach out for help. Please contact us with any questions on qualifications.
We also offer a monthly Women's Self-Defense Class ages 13 and up, as well as an Abduction & Bullying Defense Class for kids ages 6-14.


Women's Self-Defense Class: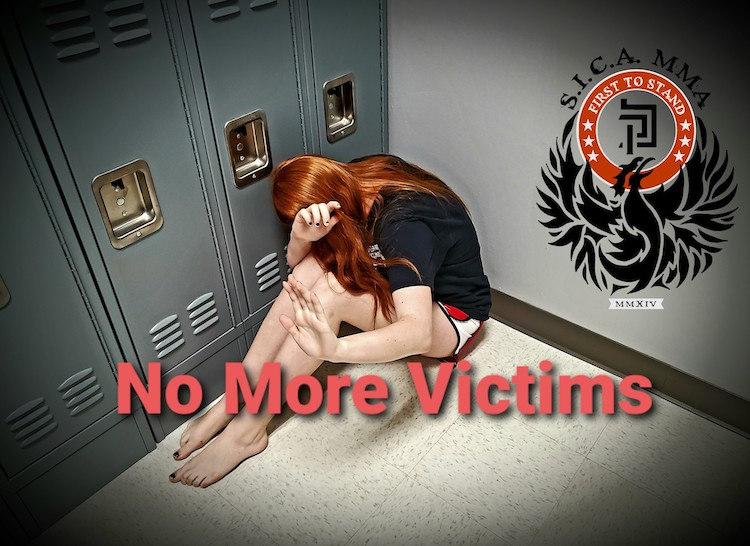 NO MORE VICTIMS!
The intended purpose of this course is to provide women a self-protection program that will supply them with the skill, knowledge, and confidence to protect themselves from potential assaults. Every month is a new segment.
- Recognizing and avoiding potential threats
- Basic principles of self-defense and taking control
- Fears, safety, and situational awareness
- Realities of physical assaults
- Attackers and their patterns
- Techniques and strategies to self-defense
- Physical drills and scenarios
- No experience necessary!
The techniques are designed to be immediately usable and highly effective, regardless of size.
The class will be a 1 1/2-hour block of time with breaks in between segments. Participants will be taught Self-Protection, Abduction Prevention and Rape Defense. They will be working with partners throughout the training. Participants should wear comfortable athletic clothes, no jewelry such as bracelets, long or hoop earrings, rings, or chains.
For ages 12 and up!



Abduction & Bullying Defense Class:
Let us help #SaveTheChildren starting with your children!
Bring your child in for a free Abduction & Bullying Defense Seminar. Abduction and Bullying are two profoundly serious issues facing our children, allow us to arm them with the tools to help keep them safe and build their confidence. Unfortunately bullying is quite common in schools, it is crucial to give your child the skills to do what it takes to survive and be above bullying.
In this hour-long class, we will cover Verbal & Physical Boundaries, Situational Awareness, using their voice, and Defensive Techniques that will aid in their safety!
SICA MMA invites all youth to this FREE 1hr Abduction & Bullying Defense Seminar for all ages 6-14yrs.
Invite friends, neighbors, cousins, and we will see you there!
Additional Resources:
Louisiana Coalition Against Domestic Violence

P.O. Box 77308

Baton Rouge, LA 70879

Hotline: 1 (888) 411-1333

Office: (225) 752-1296

Website: www.lcadv.org
If you are having suicidal thoughts, contact the National Suicide Prevention Lifeline at 1-800-273-8255 for support and assistance from a trained counselor. If you or a loved one are in immediate danger, call 911.